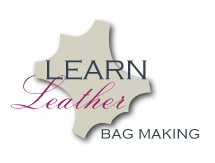 Please complete the form below if you want to register for the
Intensive Leather Bag Making Summer Course
taking place in Belgium, from Monday, July 24th till Friday, August 4th, 2017
PLEASE NOTE: your enrollment in the course can only be confirmed if you have completed and submitted this form AND after we have received your payment in our bank account.
Payment

• you can pay via PayPal through this link: please choose your fee (with or without accomodation)

Don't have a PayPal account? No worries. Getting one is fast and free. On the Paypal page you will be referred to, you can 'check out as guest', which gives you the option to pay by using your credit card.

Don't want to use PayPal or Credit Card? You can pay by Bank Transfer (but keep in mind that a Wire transfer from outside the EU to Belgium will, depending on your bank, cost extra money
Bank: ING Belgium
Account owner/name + address: Transmed bvba, Binkomstraat 45, 3210 Lubbeek, Belgium
Account number: (IBAN) BE06 3300 6061 2122
BIC-code ING België (Swiftadres): BBRUBEBB
please mention on your bank transfer: summer course + your name