Intensive Leather Bag Making Summer Course
---
Lubbeek, BELGIUM - July 24th 2017 - August 4th 2017
COURSE
Course hours Monday-Friday
10.00 AM – 01.00 PM & 02.00 PM – 06.00 PM = 70 class-hours !!
2 weeks leather bag making experience
• For participants with no or little experience with leather:
program of 4 bags, dealing with a range of basic techniques for working with leather (cutting, glueing, skiving, edge finishing, bag reinforcements, zippers, pockets, straps,…)
Cutting leather: 2 tassels
Sewing soft leather / interior pocket with leather window / external zipper closure: foldover bag
Shopper/Tote techniques with recessed zipper – different leather handle techniques – bags on bags techniques
2 side gussets with darts, one piece body & top handle
• Adapted program for more advanced participants – 4 to 5 bags, addressing more advanced techniques like 3-piece recessed gussets with turned gusset corners, 2 sides recessed gussets, special integrated bag handle technique, hinge and drs bag frames, 2 double gussets with central inside zipper pocket, wallet making,…

'domino' technique: sturdy bag with 3-pieces gusset with turned corners and flap: 3 available patterns (handbag, schoolbag, 2 compartment document case with seperate flap)
2 sunken side gussets, handhold bag technique with window, stiffened bag
zip around wallet / 3-fold wallet – different wallet techniques
Enveloppe bag with cutout windows, double gusset with interior center pocket & top handle
…
Max 8 persons !
Included: the course, course notes, patterns, all usage of the machines, thread, glue, edge paint, tape, …
Not included: the leather/lining/bag stiffener and the bag hardware (20% reduction in our own shop during the course)
Studio equiment: large working tables, a large assortment of hand tools, skiving machine, industrial post bed with compound foot, 3 industrial compound foot cylinder arm machines, thread, 2 cutting tables, 1 domestic sewing machine (for fabric linings), 1 serger, a lot of bag patterns & inspiration...
COURSE FEE: 530 EUROS
---
SOCIAL PROGRAM
When visiting Belgium, one should admire some of our wonderful historical cities ! • Sunday, July 23rd – arrival day: Free evening diner offered by me ;-)
• Evening during 1st week: visit to a big Leather shop (45 min drive from the studio)
• Friday, July 28th: Evening BBQ, at the house of Lederstudio, kindly offered by your host
• Saturday, July 29th: VISIT TO BRUGES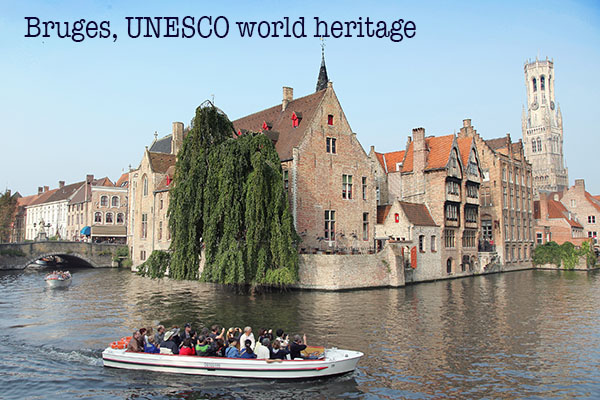 We travel to Bruges by train (1.5 hours from Leuven)
City tour with local guide to visit the highlights of this world heritage mediaval town +
Boat tour on the canals
Price per person: 55 euros
Not included: meals
• Sunday, July 30th: VISIT TO BRUSSELS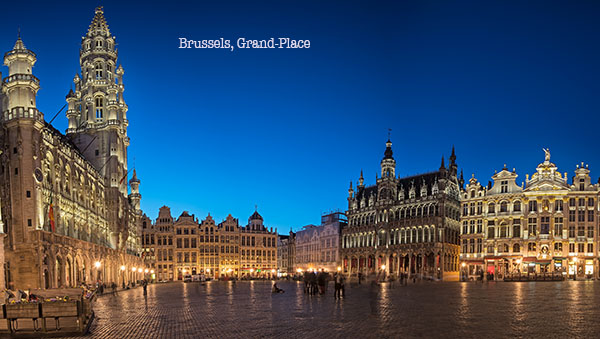 We travel to Brussels by train (30 minutes from Leuven)
City tour with local guide to visit the highlights of 'the capital of Europe'
Price per person: 65 euros
Not included: meals
(NOTE: if you come to Belgium with your partner/family, they are kindly invited to participate in the excursions – they pay the price per person like any course participant).
---
ACCOMODATION
We provide accomodation from Sunday, July 23rd until Saturday, August 5th.
Accomodation is provided for the given price, supposing you agree to share a room with a fellow course participant. Included in the accomodation price is bed and bath linen, free coffe/thee/water during your stay. For other drinks we provide a 'hospitality bar/fridge', which means you pay – based on confidence - the contribution for the drinks you consume (coke, other soda drinks, ice tea, red & white wine, belgian beer – which is great by the way ;-), fruit juices).
There is (only) 1 bathroom with 1 shower & 1 bathtub  (we will make morning and evening arrangements about the usage). There are 3 toilets – should be enough for max 8 of us ;-) – there are 2 kitchens, each with fridge, 4 cooking plates, oven, dishwasher, kitchen supplies… there is a big enough garden for nice summer evenings with bbq (large gas bbq at your disposal), terras table, seats, … Living room with 2 dining tables, lounge, TV, free WIFI. Laundry washing & drying available.
The accomodation is only for participants of the course – if you want to come to Belgium during this stay with your partner/family, please provide your own accomodation.
Fixed price for your stay (sunday, July 23rd 2017  until saturday, August 5th 2017 = 13 nights)
ACCOMODATION FEE: 160 EUROS
Feel not obliged to book accomodation with us – you can arrange your own accomodation in any hotel/B&B/holiday home.
---
MEALS
• BREAKFASTS -  If you stay in the accomodation provided, we will have common breakfasts. You will be asked about your breakfast preferences on beforehand after registration. We charge an avarage breakfast price per person.
PRICE PER DAY PER BREAKFAST: 5 euros
13 BREAKFASTS: PRICE 65 EUROS
• LUNCHES from monday to friday: At the studio, we will arrange all lunches during the course-days (sandwiches, breads, soups, salads, …)
10 LUNCHES: PRICE 80 EUROS
Participants with any allergies or special needs for meals have to inform us upon registration!
• Any other lunches (weekends) not included
• Evening meals:
Offered by your host: Welcome meal sunday evening, July 23rd + BBQ friday evening, July 28th
All other evening meals + weekend meals should be arranged by yourself (in the accomodation, or by visiting a restaurant, ordering, …)
---
TRAVEL ARRANGEMENTS
As people come from all different locations, you have to make your own travel (flight/train) arrangements. As the course starts on monday morning, July 24th, it is best you make sure you arrive the day before, on Sunday, July 23rd.
• If you arrive by plain in Brussels Airport:  we arrange free transportation from the airport to our house/studio.
• If you arrive in another Belgian airport (Charlerloi, Oostende,…), please arrange a train to Leuven Station. We will arrange transportation for you from the railway station to our house/studio.
• If you arrive by train, f.e. Thalys/Eurostar, please arrange a train to Leuven Station. We will arrange transportation for you from the railway station to our house/studio.
Returning home: The course ends Friday, August 4th at 6.00 PM – Accomodation is provided until Saturday, August 5th, so book your travel back home on Saturday (or prolong your stay in Belgium or Europe).
Please provide us with your travel schedule beforehand, so we can make all the necessary arrangements for your (free) transport from the airport or the railway station to our house/studio, and back.
---
Your instructor
Nathalie Homblé, born in the summer of '69, and living in Belgium (the Dutch-speaking part = Flanders).
The village where I live, Lubbeek, is located near the city of Leuven, in the very center of Belgium. I was raised in the beautiful city of Bruges, surrounded by garment and sewing projects of my mother, a seamstress. I learned to sew on her beloved Singer sewing machine when I was a little girl, making skirts for myself an a whole wardrobe for my dolls and barbies. But then studies and work life took over, and sewing was limited to some curtains for the house, or hemming pants. As years went by, the desire to create something with my hands was getting stronger. After some time of sewing fabric handbags, I felt the need to raise to another level, and started a 2 years "Maroquinerie" (Leathergoods and bags) education in Belgium. And I can assure you: it's a virus without cure ! The more I knew about it, the more I wanted to know even more. I was lucky to find a real craftsman in the north-west of the country, who was willing to share his lifelong experience with me in his wonderfull studio. He showed me techniques, patterns, tools... It was a man of few words and no theory, he teached by showing how to do it, and told me never to forget : "There is no 'bible' in leatherworking - you should keep on doing it, and you will eventually find what works best for you! And you will only master it, by doing it over and over again, without ever giving up. The secret is patience."
I started back in 2013 to teach leather bagmaking through live workshops and courses. Nowadays, 6 groups a week are attending their weekly classes in my studio, to learn the art of leather bag making. After talking through Facebook with quite some people from all over the world about bag making, I decided it's time for this summer school, 2 weeks of intensive bag making, taught in English.
---
TOTAL PRICES
• Course fee + social program + lunches + accomodation + breakfast = 955 euros
• Course fee + social program + lunches = 730 euros (you book your own accomodation & breakfasts)
IF YOU WANT TO REGISTER FOR THE COURSE, Click the button below, complete the form, chose your payment option. NOTE !! Your registration can only be confirmed after you have both completed the form and you have transferred te chosen course fee into our account.
Registration deadline: July 7th, 2017. If all available places (8) would be booked before that date, we will update this page. You could still register on a 'waiting list', in case any of the registered participants would cancel. In the event there are still places available after the registration deadine, we will probably extend the registration period.
Cancellation policy: If you need to cancel your registration for this course, you can do that until July 9th, 2017. Your course fee will be refunded, minus occuring bank fees (from the original payment & from the refund). The refund can take up to 4 weeks. If you want to cancel after that date, a cancellation fee of 290 euros + bank transfer fees will be charged.
If for any reason, we have to cancel the summer course ourselves - we rarely cancel an organised course - every effort will be made to notify you as soon as possible, and issue you a full refund for the course fee. Of course we cannot provide you any reimbursement of booked travel expenses. It is always safe, when you make travel arrangements, that you consider a cancellation insurance for your flight/train reservation.
If you have any further question before registering (of after, for that matter), please send us a message through the CONTACT page.